Programme
Floraholland
Assemble at 6.00am in front of the Victoria Hotel (opposite Central
Station at Damrak 1-5, see above for picture)
You will arrive at 7am at Floraholland where there will be a guided tour followed by a presentation and breakfast.
You will be dropped off again at the Victoria Hotel after the session around 9.30am (map for Victoria Hotel: see below)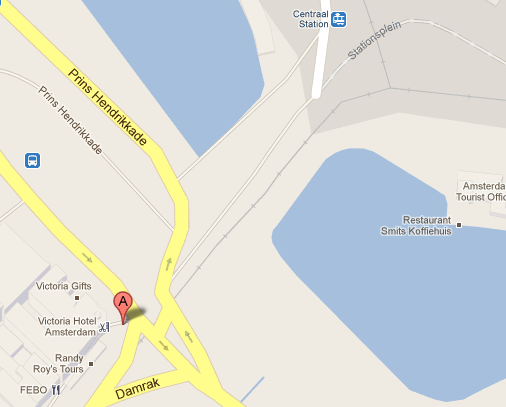 Rotterdam Harbour tour
Assemble at 8.30am in front of the Victoria Hotel (opposite Central
Station at Damrak 1-5, see above for picture). The boat trip will be at 10.30 and takes 2.5 hours. Upon return you will be picked up again and brought back to the Victoria Hotel in Amsterdam (expected arrival in Amsterdam: 14.30hrs).
The Fresh Connection
On Thursday there is also the opportunity to play a supply chain game (The Fresh Connection). This game is focused on experiencing the need for a shared supply chain strategy and the cross-functional cooperation needed to manage a supply chain. It is strongly related to Sales and Operations Planning Process and its role to translate the strategy into tactical decisions and to manage supply chain trade-offs.
In the supply chain learning environment of The Fresh Connection you and three team members will take up a role in the new management team of The Fresh Connection, a virtual producer of fruit juices, which is suffering servere losses at the moment. In the roles of VP Purchasing, VP Sales, VP Operations or VP Supply Chain you will make strategic and tactical supply chain related decisions to get The Fresh Connection back on track and to realise the highest possible Return on Investment.